1) Los Angeles Rams: Jared Goff – QB, California
The Rams all but announced that quarterback is their most pressing need by making a blockbuster trade for the first pick in the draft. It is been reported by near enough everyone that Jared Goff will be their pick. Goff's ability to manoeuvre in the pocket, combined with his more extensive playing experience at a higher level, gives him the edge for a team that needs to win now. Despite question marks about Goff's small hands and high turnover games last year, the Rams seem confident in Jared Goff.
2) Philadelphia Eagles: Carson Wentz – QB, North Dakota State
The Eagles have been very bold in the run up to the draft, making two separate deals to move from their original No. 13 position to No. 8 (Miami Dolphins), and now to No. 2 (Cleveland Browns) in order find their franchise QB. From the moment Wentz's name is turned in to the commissioner, he will be on the clock toward being named the starter in Philadelphia. Prepare for a Sam Bradford trade.
The Chargers secondary took a huge hit this off-season, losing All-Pro safety Eric Weddle in free agency to the Baltimore Ravens. The addition of the top-rated defender, and player, on many experts draft boards, Jalen Ramsey would more than make up for the loss of Weddle.  He is long, athletic and can make plays. He also can play anywhere in the secondary, potentially at Free Safety.
4) Dallas Cowboys: Joey Bosa – DE, Ohio State
The Cowboys are in need of a pass-rusher. They can't make the pick solely based on the suspensions facing Demarcus Lawrence and Randy Gregory, but even with those guys back on the field the team needs a difference-maker up front. Joey Bosa, in my opinion is by far the best pass-rusher in the draft. With the Cowboys re-signing Brandon Carr and having Claiborne and Byron Jones, who has a bright future, I can't see them taking Ramsey even if he falls to #4. Bosa is a guy who couldn't be stopped one-on-one at Ohio State. He has the tools to be an All-Pro pass-rusher for the next 8-10 years.
5) Jacksonville Jaguars: Myles Jack – OLB, UCLA
There has been a lot of negative speculation about Myles Jack in the past few days. Some experts believe his draft stock has taken a hit. However, the Jaguars will not pass on Jack.
The 6-foot-1, 245-pound Jack is arguably the best athlete in the draft and excels in coverage and playing in space. Adding Myles Jack's playmaking ability would make Jaguars a genuine playoff threat.
6) Baltimore Ravens: Laremy Tunsil – OT, Mississippi
Just like that, the best player in the draft falls into the hands of Ozzie Newsome and the Baltimore Ravens.
The Ravens would love to take a playmaker on offense or defence at this spot, but they cannot pass on getting an All-Pro left tackle to protect Joe Flacco. With Flacco coming off a season-ending knee injury, the Ravens need to find a long-term answer at left tackle Eugene Monroe has proved to be unreliable. Tunsil's
balance and technique is so good that when he gets his hands locked into the framework of a pass rusher, it is over. Tunsil reminds me of a more athletic Trent Williams.
7) San Francisco 49ers: Shaq Lawson – DE, Clemson
A versatile pass-rusher at Clemson, Lawson tallied 12.5 sacks and 25.5 tackles for loss against elite competition in 2015. He would be a great addition to a defence that often struggled to generate pressure last year. Lawson did have a shoulder injury in college, but he checked out OK at the recent NFL medical recheck. Colin Kaepernick to stay with the 49ers… therefore passing on Paxton Lynch.
8) Cleveland Browns:Ronnie Stanley – OT, Notre Dame
Stanley can be an immediate starter at right tackle with the potential of moving to left tackle if the Browns are considering trading Joe Thomas, with the Seattle Seahawks reportedly heavily interested. Possibility of the Browns trading down from this pick.
The Bucs added 32-year-old cornerback
Brent Grimes
in free agency, but he's obviously not a long-term solution in the secondary, which has no proven playmakers other than Grimes. In Vernon Hargreaves is perhaps the best cover corner in the draft and has good ball skills.
Hargreaves is a little shorter than teams like as an outside cornerback, but his twitch and coverage talent makes him an upper-echelon cornerback in this year's draft.
10) New York Giants: Jack Conklin – OT, Michigan State
The Giants have gaps in the right side of their offensive line.
The Giants want to continue to keep QB Eli Manning upright and safe, and Jack Conklin is an instant starter who can ably man the right tackle position, giving Eli more time in the pocket to find Odell Beckham Jr. Giants may consider adding a WR with this pick, look out for Treadwell or Doctson.
11) Chicago Bears: DeForest Buckner – DE, Oregon
The Bears need a run-stuffer and interior pass-rusher, and Buckner fills both needs perfectly.
He's a 6-foot-7, 291-pound specimen who can blow up a backfield. Buckner considers himself an interior rusher with the skill to get around the edge, and he feels he could fit in Vic Fangio's 3-4 defence.
12) New Orleans Saints:Sheldon Rankins – DT, Louisville
The Saints need help in most positions on their defence after finishing 31st in both passing and rushing defence last year whilst setting the NFL record for most TD passes allowed.
Rankins is a disruptive interior rusher with an array of moves that makes him a nightmare to block on passing downs.
He had 14 sacks for 26.5 tackles for loss over his final two seasons at Louisville.
13) Miami Dolphins:Ezekiel Elliott – RB, Ohio State
The Dolphins lost leading rusher
Lamar Miller
in free agency to the Houston Texans, and there is no proven replacement on the roster. Not only is Ezekiel Elliot a replacement, he is a massive upgrade. Potentially a risk taking a running back this high, but Elliott averaged more than 6 yards per carry the past two seasons at Ohio State and scored 41 touchdowns.
Elliott is a three-down back capable of making a big impact as a runner, receiver and blocker.
14) Oakland Raiders: Chris Jones – DT, Mississippi State
Jones is versatile enough to play inside or outside in the Raiders scheme. He should be an effective part of the team's rotation up front immediately.
Jones has great length. More specifically he has long arms.  He uses these arms very well to keep opposing blockers out of his chest, giving him the ability to control them.
Jones' speed off the line of scrimmage will help Oakland's pass rushing duo of Khalil Mack and Bruce Irvin.
15) Tennessee Titans:Taylor Decker – OT, Ohio State
Similar to the Giants, the Titans will be interested in giving franchise QB Marcus Mariota a new weapon with this pick. However, the likelihood is that they will focus on protecting him with an offensive lineman. Decker has the size and the footwork to eventually play left tackle in the NFL, but he most likely will play immediatedly for the Titans at right tackle. Decker's blocking will also create room new running back DeMarco Murray.
16) Detroit Lions:Kevin Dodd – DE, Clemson
The Lions are seeking help for star DE Ziggy Ansah, and Dodd's best production may still lie ahead. Disrupting quarterbacks is the goal of any defense, and the Lions could have bookend pass rushers after this selection.
The upside on Dodd is tremendous coming off a breakout year in Clemson's 4-3 scheme. He had 23.5 tackles for loss, 12 sacks, one forced fumble and one blocked kick.
Dodd is a bit inexperienced, but there's no reason he can't be an effective three-down player at the next level.
17) Atlanta Falcons: Darron Lee – OLB, Ohio State
Falcons coach Dan Quinn made an emphasis this offseason about improving the speed at linebacker. Lee would be a significant upgrade in that category after posting the top 40 time for all linebackers in the draft with a 4.47.
Lee would add speed and playmaking ability at the second level for the Falcons.
The Falcons need a starting weakside linebacker to emerge. This pick makes too sense for it not to happen.
18) Indianapolis Colts:Cody Whitehair – OG, Kansas State
The Colts' desire to upgrade the offensive line is a carryover from the last 3-5 years. Coach Chuck Pagano said they need to improve the interior part of the offensive line. Cody Whitehair is by far the best OG in the draft. He possesses the versatility that teams love in that he could play tackle, guard, or even center depending on the need, though the best and most natural fit seems to be at guard.
19) Buffalo Bills: Reggie Ragland – MLB, Alabama
Reggie Ragland is a perfect fit for Rex Ryan's defence, whilst also filling a huge need. He is not the fastest LB, but he does so many other things well that it makes it too hard to pass with the 19thpick. His 195 tackles, 17 TFL's, 4 sacks, 3 forced fumbles and an interception are very impressive. ILB's like Ragland are difficult to find. To see him fall past the 19th spot would be a surprise.
20) New York Jets: Leonard Floyd – OLB, Georgia
The Jets need an edge rusher who can develop into an every-down, 3-4 outside linebacker.
Floyd's ability to play between the tackles and outside might give him an advantage over others available at this point in the first round. Floyd also adds more pass-rushing to the Jets impressive defence. However, pass-rushing is what they will miss if they trade away Mo Wilkerson as reports suggest.
21) Washington Redskins: Jarran Reed – DT, Alabama
Jarran Reed is an elite run stopper. The Redskins were 26th against the run in 2015; Reed would help assure that doesn't happen this year. Reed also has the potential to improve as an inside pass rusher and help Washington deal with Dallas' great offensive line and heavy running attack
to compete for the NFC East.
22) Houston Texans: Corey Coleman – WR, Baylor
DeAndre Hopkins
doesn't need blazing speed to beat defenders, but for the receiving corps as a whole, the Texans could stand to add some.
Coleman adds a big-play element to the offense as a catch-and-run specialist with deep-ball potential.
Coleman ran the 40-yard dash in 4.37 seconds at his pro day. Over to you, Brock Osweiler.
23) Minnesota Vikings: Laquon Treadwell – WR, Mississippi
The Vikings need a big target for
Teddy Bridgewater
, and if Treadwell is still there at No. 23, they'll be happy to take him. Treadwell is a big-bodied WR with
sticky hands and superb ball skills.
He's physical with corners, gets separation out of his breaks and should be able to haul in contested passes. If concerns over his 40 time lead him to slide this far, Vikings will take him with no hesitation. Treadwell will be a more than capable Mike Wallace replacement.
24) Cincinnati Bengals: Josh Doctson – WR, TCU
The seemingly perfect fit for the Bengals all along has been Doctson, the 6'2, 200-pound WR from TCU. Doctson makes contested catches and has a knack for fighting for extra yards.
The combination of Doctson and A.J. Green will create problems for opponents attempting to defend the Bengals' dynamic aerial attack.
25) Pittsburgh Steelers: Eli Apple – CB, Ohio State
Steelers need a help in the secondary if they are going to make any sort of noise in the postseason.
Apple was a redshirt sophomore and three years removed from high school in 2015. Is he raw? Absolutely. Does he have a lot to learn? Yes. But, he'll be coached up in Pittsburgh.
He recorded 86 total tackles, four interceptions, two forced fumbles and a fumble recovery in his only two seasons on the field at OSU. Standing at 6″1 and weighing 200lbs, Apple would add a little size to the Steelers' corner position.
26) Seattle Seahawks: Robert Nkemdiche – DT, Mississippi
Seahawks fans may be unhappy that this isn't an offensive lineman, but they shouldn't… Robert Nkemdiche will be the steal of the 2016 NFL Draft. Nkemdiche blew scouts away at the combine with his freaky athleticism for a 6'4, 295lbs defensive lineman.
He is a top 10 talent in this draft, with question marks about off-field issues, but the Seahawks have not been shy about taking this type of player, (Frank Clark last year). Their environment is one in which players seem to thrive. Nkemdiche would be used all along the defensive front, exactly as Pete Carroll wants to do with his defensive linemen. Adding Robert Nkemdiche to Michael Bennett and Cliff Avril… The Seahawks D just got a little scarier.
27) Green Bay Packers: Andrew Billings – NT, Baylor
Strengthening the middle of the line will hugely help the Packers run defence. Billings not only is tough to move, but also quite nimble for his size, making him a tough assignment for any interior offensive lineman to handle one-on-one. B.J. Raji 2.0.
28) Kansas City Chiefs: Artie Burns – CB, Miami
The Chiefs need to add a cornerback after losing Sean Smith to the Oakland Raiders in free agency. Artie Burns would be a nice replacement. Burns has all the credentials to be an athletic CB2 to pair with Marcus Peters in the secondary.
29) Arizona Cardinals: Mackensie Alexander – CB, Clemson
The Cardinals need to find a cornerback to complement
Patrick Peterson
for the long term. After losing safety
Rashad Johnson
in free agency, Arizona also needs to add long-term depth at the position. With the Honey Badger (Tyrann Mathieu) and
Tony Jefferson
slated to step in as the starting duo, finding another option for the future is needed. Mackensie Alexander
could fall out of the first round. However, the Cardinals need a cornerback and Alexander has the swagger and cover skills that can slot in with Patrick Peterson and the Honey Badger in the Cardinals secondary.
30) 
Carolina Panthers
: William Jackson III – CB,
Houston
Jackson has the complete package. At 6'0″, with a 4.37 40 yard dash he has the size, speed, and ball skills to translate to the NFL level even though he played against weaker competition.
Losing Josh Norman is huge. Norman was probably the best CB in the NFL last year.
Bene Benwikere
was far from consistent in his first year as a starter alongside Norman. Even though Panthers need to address the offensive line (just re-watch the Super Bowl), Jackson is too good to pass on with this pick.
31) Denver Broncos: Paxton Lynch – QB, Memphis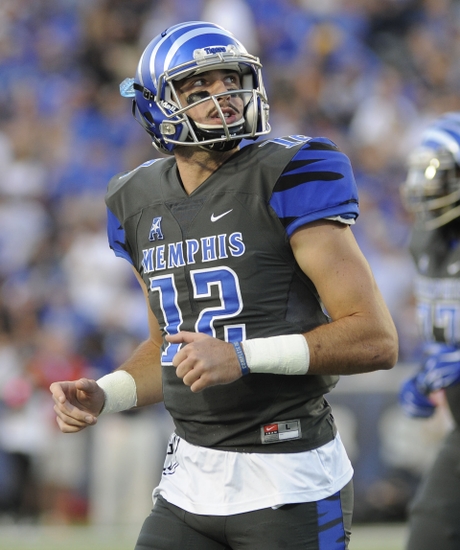 Paxton Lynch is the only real option for the Denver Broncos here. The fact is, Mark Sanchez is an accident waiting to happen. We are talking about a guy who created the "butt-fumble". The Broncos need a QB and Paxton Lynch could be their guy. His skill set makes him a solid fit into Gary Kubiak's zone-blocking scheme. He has elite arm-strength and great athleticism for his height, 6'7. He's raw and he might have a tough rookie season, but the Bronco's D will win a lot of games to take the pressure of his shoulders. I'd probably say Mark Sanchez starts the first 4-6 games, before Kubiak switches to Lynch. I see Paxton Lynch as a better option than Brock Osweiler. I think John Elway would be more than happy if Lynch falls to them with this pick. Must See
For the first time in over five years, an English team could be in...

Young adult football fans are being forced to stay away from attending matches due...